Review Galaxy
FEATURE: Review on Intrigue at the Grand Opera
In Intrigue at the Grand Opera, Nancy discovers a secret amid the mass of voices: someone is trying to hurt the two leading sopranos. Following complicated twists, Nancy seeks to uncover who is behind the pranks... before the curtain falls for good.
Nancy encounters a slashed bodice, tension between the leading ladies; a secret so mysterious, no one but its keeper knows; and a near-fatal accident. Nancy knows it's up to her alone to solve the mystery, but will there be enough time?
OPINION: This was a really interesting book, and you have absolutely no idea who it is or what the secret until the very end... it keeps you guessing. I would highly recommend this book, especially for opera buffs.
Previews: Nancy Drew Girl Detective
EN GARDE:
"If I told you I was worried about George's health because she's taken up fencing, you's laugh. Foils today are totally safe, and the gear is padded besides. Right?
Well, if so, why did I see blood at George's first meet? Skewering isn't in the legal fencing repertoire -- but it soon becomes apparent to me that someone's too fired up to care..."
I haven't read this yet, but it's bound to continue the pattern of each book being better than the one before. The plot sounds good, too. I'll definitely be first to buy it.
quote borrowed from simonsayskids.com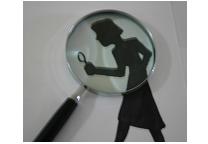 The Secret of Mirror Bay
In The Secret of Mirror Bay, Nancy uncovers a mystery after being invited to her Aunt Eloise's cabin in New York. A woman glides on the water in the lake in front of the cabin!
Soon, Nancy uncovers another mystery: a "sorcerer" is haunting the woods on the mountain in the village. He has a greenish hue, glows, and threatens all who come near him. Nancy has also discovered that she may have an unknown enemy! A woman closely resembling herself has taken advantage of many people in a very cruel way...
Through exciting twists and turns, and a little fun here and ther, Nancy uncovers the truth, just like always.
OPINION: This is one of my very favorite Nancy Drew books; I like to cuddle up with it in the summer, or read it when I'm tired or uncomfortable. I highly recommend this book.